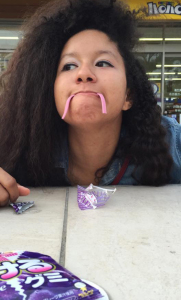 Delicious. Seriously, this candy is a lot of fun to eat and it's got that yummy grape flavor that tastes the same no matter what Japanese candy you're eating. Not to mention, they're fun to play with.
美味しいです。本当に、このキャンディーは食べて楽しい。そして日本の普通のグレープ味です。楽しく遊べます。
There are similar candies to this one such as the Rips strawberry and apple licorice. The difference here is that these aren't sour and they come individually packaged.
このキャンデイはRIPSのいちごとリンゴのリコリスに似てる。パッケージと味が違いますけど。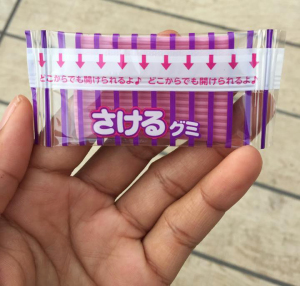 The packaging itself is really nice with the purple stripes over clear plastic with white and pink accents. There's also instructions for how to open the package the right way. The outside of the bag is appetizing enough, but I really think the individual wrappers complete this one.
このパッケージは良いと思います!紫ストライプスと、クリアのビニールと、ピンクと白も良いですね!パッケージを開けるための指示があります!パッケージは最高と思います!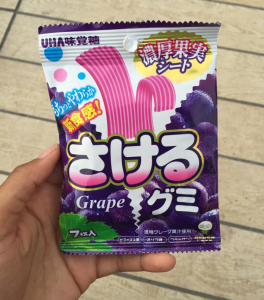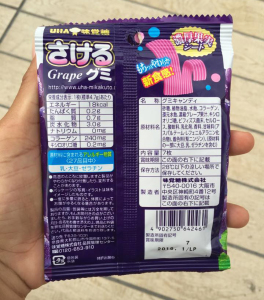 This candy is good for anyone who likes grape flavors. The texture of the candy is chewy, but not too hard, and the ridges make it fun to tear apart. I didn't see any other flavors, but I imagine cherry would be nice.
グレープ味好きな人はこのキャンディーが好きになると思います。これは硬くないし、シコシコします。そして裂けるのが楽しいです!別の味見たことがありませんですが、チェリーもめっちゃ美味しいそう。