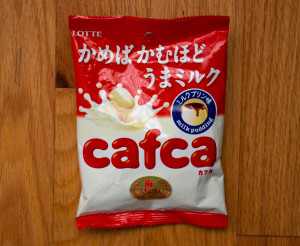 A couple of days ago, I wrote about the Fujiya brand Milky candy, and because I loved it so much, I decided to try another one! This time, I tried Lotte brand cafca candies. It kind of has a milky coffee flavor. I have to admit, I was a little disappointed at first. Because this flavor is milk pudding, I expected some kind of caramel center. Instead, it is a really light and fluffy, soft candy. This makes sense because the marketing is all based on some this soft/fluffy idea.
最近、不二家ミルキーキャンディを書きました。そして、不二家ミルキー大好きですので、別のミルキー味スイーツ食べたかったですよ!今度、Lotteカフカ食べました。少しミルキーコーヒー味ですね。実は、ちょっと失望しました。この味はミルクプリンですので、キャラメルの中見たかったです。でも、このキャンデイはすごくフカフカします!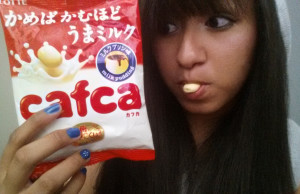 When I turned the package around, I was surprised to see this little character on the back. At first, it looked like mashed potatoes or ice cream. It is kind of creepy, but that makes it cute! As it turns out, that character is the mascot, cafca-kun! There is a url to the lotte brand cafca website.
パックに小さいキャラクターを見て、びっくりしました!始めは、マッシュポテトそれともアイスクリームに見えました。少しいおかしいけど、これは彼を可愛いにしますね!実は、そのキャラクターはカフカのマスコット、カフカくんです!lotteのウェブサイトを見てください。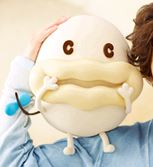 I went to the website on the back, and in my opinion, the website is more fun than the candy!!
キャンディ以上にウェブサイトが好きですよ。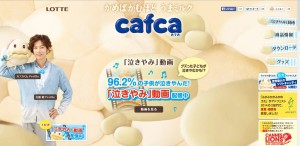 This is a screenshot from the cafca website. Again, it is… a little creepy, but cute somehow! It is a lot of fun! There is a little bio about cafca-kun, where you learn that his dream is world peace and that he enjoys calmness and relaxing. That can be seen in the short movie!
そのイメージはカフカのウェブサイトのスクリーンショットです。もう一度、少しおかしいけど、可愛いそうですね!めっちゃ楽しい!カフカくんのプロファイーる見えます。彼の夢は世界平和、そして彼の趣味はのんびりです。映画に見ます!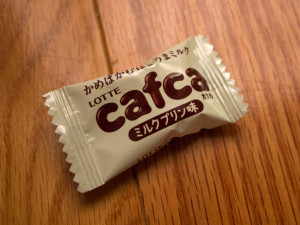 Here is what the cafca candy wrapper looks like. As you can see, it's not the same as the packaging. I think the colors of this wrapper match the feeling of the candy itself. In the cafca video, you will hear the phrase "fuka fuka" ("foo-ka foo-ka"). That same sound can be heard when slowly pronouncing the candy name aloud. In Japanese, cafca is written as "カフカ" or "kafuka." Try saying "ka-foo-ka" out loud. Did you hear it? This phrase, "fuka fuka," is actually a Japanese onomatopoeia for something that is soft and fluffy. I think the harsh red of the packaging is bright and loud. This doesn't match the soft and fluffy calmness of cafca-kun, nor the candy itself. Honestly, the colors of the wrapper are better for this. Overall, I had a lot of fun trying this candy and looking at the website. I would like to try the other flavor as well! If you like milky, coffee candies, this candy is for you!
これはカフカのラッパーです。パッケとラッパーは違っていますね?ラッパーの色はカフカくんののんびりスタイル気持ちありますね。(英語で"フカフカ"って意味が説明します)。とにかく、パッケの赤い色は派手すぎます。カフカくんとカフカキャンディはフカフカけど。このキャンディとウェブサイトは本当に楽しい!別の味も食べたいですよ!ミルキーコーヒーキャンディが好きですか?このキャンディ食べてね!